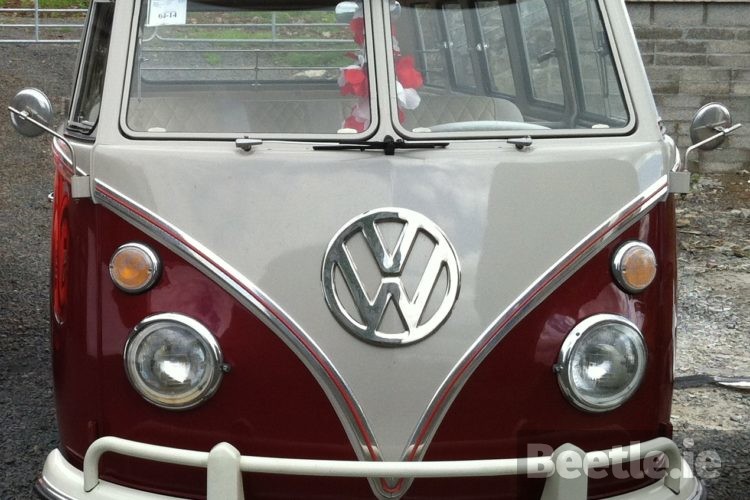 1966 Split Bus
Having seen 'the light' as I walked along Vancouver's main street I just knew I had t have a Splittie. The design stood out so much against the humdrum array of modern cars but more importantly it seemed to symbolise an outdoor, go anywhere at any time, sporty lifestyle which is one myself and my fiancé enjoy and besides, I needed a car to get me to the church for my wedding back in Ireland so it made complete sense.
Rua as she is now known was sold new in 1966 in the town of Alpharetta, Georgia. It eventually passed through various owners before ending up in Dayton, Ohio where the owner had planned to restore her but he lacked time and dollars.
It was now January 2011 and 45 years since the Bus left the factory in Germany for its life in the US of A, it was back in Europe and about to start its new life in Limerick, Ireland. I found quite a lot of rust but then this Bus has been in constant use for 45 years so it was to be expected. It did mean that my deadline for our wedding on 27th April 2012 was going to be a very tough deadline especially as I had never restored a car before.
Not having a garage space of my own my parents very kindly allowed me to use their garage as well as their driveway. I began by cutting out any rot that I could see and smoothing out any imperfections in the body panels. Joe Lafferty helped rebuild the engine and my father helped with the assembly and any fabrication. I fitted a rock and roll bed, Safari windows and deluxe trim.
I realised I was running out of time so I signed up to an Irish VW club called eircooled.com where I asked for help and sure enough there were a gang of people around to lend a hand and moral support. Rua earned her stripes after bringing me to the church with my best man and then to the reception with my new wife Sinead.
Submitted by: Darren Harris