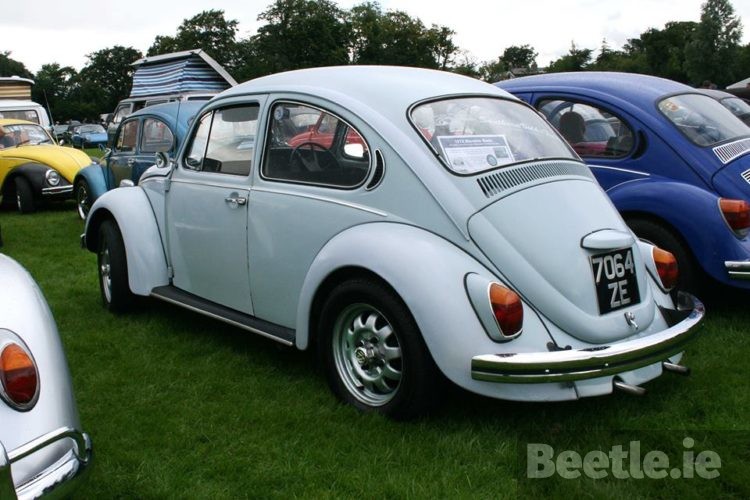 The second in a series of just four Special Edition Beetles for Ireland, the Marathon Beetle (or "World Champion Beetle" according to the advert of the time) was released in August 1972 to commemorate the occasion earlier that year when the Beetle claimed the record for "most cars produced" from the previous record holder: the Ford Model T. In Germany, the Marathon Beetle was called "der Weltmeister" or "the World-Master" and was a more descriptive title for the record!
The research team at Beetle.ie has determined a few differences between our Irish Marathon Beetles and the corresponding Marathon Beetles produced in Europe. Since our Beetles were built in Dublin from CKD kits, our Marathon was built locally in the same style, not imported as complete cars.
The European Marathon could be specified as a 1302 or 1300 standard Beetle with 1300cc engines whereas Irish Marathons were based on Deluxe 1200 Beetles only, although they were available to order with either 1200cc and 1300cc engines.
Other features included the contemporary padded plastic dash and full-size headcloth but basic rubber floormats and black basket-weave seats.
As with all other Irish built Beetles, they received the "Shamrock" etched glass, supplied by Triplex in Tipperary. Another nuance of CKD production was that the paint for the Beetles was sourced locally. The European Marathon got metallic blue paint but Irish ones got non-metallic paint called "Diamond Blue" in ads of the time. The paint code was Corbel/IIF 7469 which corresponds with the VW code L50B.
The most unique feature of the Marathon and that which set it apart from the other Beetles of the day were the special spoked "Lemmerz" steel wheels with chromed hexagonal centre caps. These were shared with the European Marathons too.
All marathon buyers were awarded a special "Gold" commemorative badge to go with the car. It declared the model as being part of the "Weltmeister" Edition.
Sadly almost none of the original batch of 300 Irish Marathon Beetles survive to this day. If you own one, or even used to own one, we'd love to hear from you about your time with these very rare Special Edition Beetles. Our research is on going and we are always happy to hear new information.

Thanks to John Knightly and Paul Sinclair for help with information and photos for this article. 🙂
**EDIT** paint code identified and added above
Submitted by: Trevor Brady