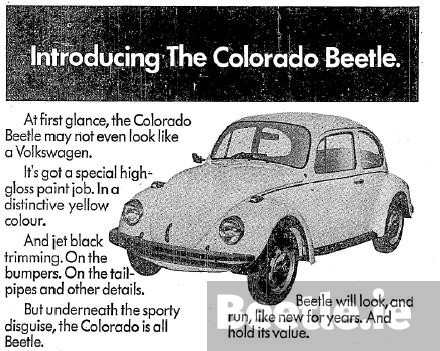 The final in a series of articles detailing the four Ireland-specific Special Edition Beetles available in the early '70s.
The Colorado Beetle was (in the opinion of the Beetle.ie research team) Volkswagen Distributors Ltd's way of telling the Irish motoring public that from here on, the Base model Beetle was to be part of the Beetle model range. The all new front wheel drive, front engined, monocoque Passat was already available and the similarly designed Golf was waiting in the wings to be released upon the world as the cornerstone model. Realistically, the Beetle had really received all the research and development it was going to get by this stage and sadly the writing was on the wall. T
During the early '70s the standard, Dublin-built, torsion bar Beetle was available as a 1200 or 1300 model for the same price. What the 1300 offered in additional power, it lost in increased road tax and reduced fuel economy. Both engine choices were offered in the "Deluxe" Beetle, with large head cloth, full chrome package, padded dash board and "safety" steering wheel as standard.
In late 1973, the Colorado Beetle was offered as a Special Edition, distinct from the Deluxe Beetles on offer. The ad claimed additional features at less cost but in reality, the Colorado Beetle was a pared-down economy model. Gone was the full external chrome trim, the bumpers were now painted black with a yellow tape stripe. The chrome bonnet and engine lid handles were also replaced by painted black items. The chrome bonnet trim had disappeared altogether! The "through-flow" ventilation introduced in 1971 was removed and the crescent vents in the C-pillars deleted. No left door mirror was offered as standard.
Inside, the full headcloth was replaced by a more spartan version, covering just the central rectangle of the roof, leaving the painted pillars exposed. The pad was removed from the dash, leaving the body colour exposed and the "safety" steering wheel was replaced with the earlier style 2-spoke version.
The factory ledgers of the time list the colour for the model as "Colorado Yellow" and it would certainly have come from the IIF/Corbel range of automotive paints but as yet we have not determined a paint code. We have yet to confirm exactly how many Colorado Beetles were made available but if the previous three Special Editions were to be used as a guide, 300 was the usual quantity.
Even after the Colorado Beetle heralded the introduction of a more budget-conscious alternative, the Deluxe 1200 Beetle would still be offered for sale up until the end of production.
Thanks to Robert Dunne for supplying the photos of 7376ZO
Submitted by: Trevor Brady