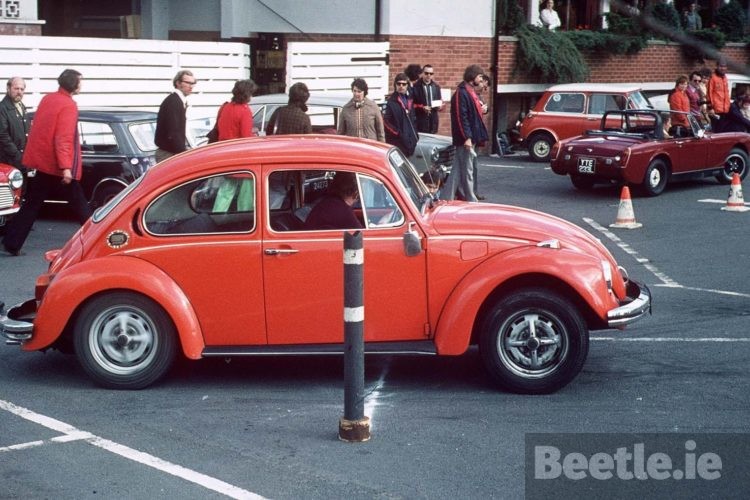 We received the sad news earlier today (7-11-19) that Larry Mooney, a long-standing pillar of the Irish VW world, has passed away.
Larry was part of the VW story in Ireland almost from the very start. In the early 1950s, the young Larry started working with the O'Flaherty's in the Ballsbridge factory where they started building the first VWs ever to be produced outside of Germany. The war wasn't long over and Larry's engineering know-how and enthusiasm were recognised and put to great use in the factory. Larry quickly worked his way up through the ranks and by the '60s he was much higher up in MDL than where he started. In fact, he would go on to be the head of his own dealership, Europa Cars from the mid '60s onwards.
Larry wasn't just an excellent engineer and accomplished salesman, he was also a wizard behind the wheel, winning trophies at many types of motorsport. Larry excelled at Autocross in his famous "JCB" liveried Beetle and he piloted many different Beetles at Trials Driving, including the new 1300S model photographed below in 1973. Larry also rallied VWs on the Circuit of Ireland in the '70s.
As far as we at Beetle.ie are concerned, Larry was a mine of information and a primary source in our research into the history of VW in Ireland. He was there almost from the start and had a phenomenal memory for facts going all the way back to the start of his career. Larry was extremely generous with his time, allowing us to interview him on many occasions. He really recognised the importance of the research we are conducting and was very supportive of our efforts.
We know Larry will be sorely missed in the Irish automotive and motorsports worlds. Our thoughts are with Larry's family at this difficult time and we hope to be able to keep the memory of Larry alive when we publish our book on the VW story in Ireland.
RIP Larry, from Cathal and Trevor
(Photo credit: Cecil Dickson)
Submitted by: Beetle.ie