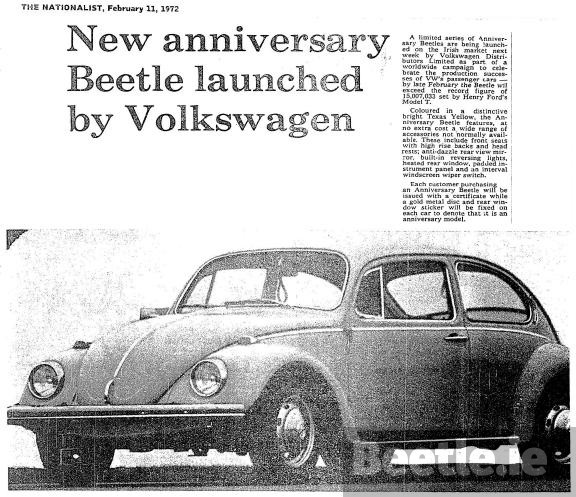 In Autumn 1971, the Beetle surpassed the significant milestone of a total worldwide production figure of 20 million cars. In Europe, VW produced a Special Edition called the "Jubilee Beetle" to celebrate the occasion. It was painted in Saturn Yellow, had special steel wheels and came with a brass plaque affixed to the dashboard with a unique serial number, starting with 20 million.
Well, it's a little known fact and the focus of some dedicated research on behalf of the Beetle.ie team but we have determined that Ireland had its own Special Edition Beetle to commemorate the 20 million milestone. We called it the "Anniversary Beetle"
The Irish Anniversary Beetle was built locally by MDL in the Naas Rd, Dublin factory. It was reportedly built in a strictly limited production run of 300 examples and had certain features that set it apart from the European Jubilee model. First of all, as part of the "CKD" import regulations, MDL sourced their paint locally, namely "Corbel Paints" from Irish Industrial Finishes. The colour chosen for the model was called "Texas Yellow", Corbel/IIF code 8927 or VW code L10B. The Anniversary Beetle was fitted with standard steel wheels and chrome hubcaps and aside from the special colour, externally wasn't that different from any other 1972/3 Beetle.
There were differences inside though. The Anniversary Beetle was the only Irish-produced version of the Beetle that was fitted with high-back seats. Of course, this is according to our research to date, but we'd love to be proved wrong!! They were a significant upgrade over the standard low-backs and were covered in black basket-weave vinyl. The dashboard received a black plastic padded covering which was a deluxe feature in 1972. Other bonuses that the model received were subtle but useful ones: intermittent windscreen wipers and a heated rear screen.
From our research, the Anniversary Beetle was available in both 1200 and 1300 engine options and was produced in small batches between early 1972 and late 1973. Newspaper reports from early 1972 give the total predicted production as 300 examples. Research is on going to confirm all 300 were built.
Note that the two newspaper articles included here quote the occasion celebrated by the Anniversary Beetle incorrectly. They obviously both worked from the same incorrect press release!
The plaque on the doashboard is a more reliable source and quotes the correct milestone.
Submitted by: Trevor Brady