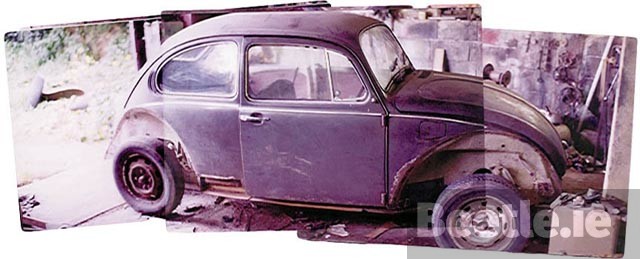 Well my story began back in 1998, I was 19 and in college in Dublin and wanted to stay there and get a summer job but my mother being an "Irish mammy" wanted me to stay home so suggested I work locally and start fixing up my grandad's old beetle in my spare time. It was in very poor condition, my grandad had inherited it from my aunt when she emigrated to Australia in the '80s and had used it up until it could be used no longer. The rot had really set in. He had partially stripped it and started to put in patches but wasn't aware of the catalogue of repair panels that were available. So I started working and saving money to fix it up. Martin Murray at VW Eirespares in Tipp was the man to go to for parts and panels back then and I bought EVERYTHING for this beetle from Martin. The full catalogue of repair panels! Martin even personally delivered some of them to me in Kilkenny after one of my orders. Instead of buying presents for my birthdays, my family and mates used to buy me body panels and parts for the car. My friends clubbed together for my 21st and bought me a set of four wings!!
It got the full body resto, thanks to my uncle John, the local panel beater. I did all the cutting out of rot and lining up of panels, John did the welding for me. He also painted the car in the Porsche Silver I had selected. I chose to go with a 6V panel conversion and a "German Look" flavour: lowered with colour coded running boards, blacked out trims, Porsche teledial wheels and modern Euro plates. I was still rolling the 4x drum brakes and the original 1200 engine which my dad Billy, the local mechanic, helped me rebuild. I was lucky to have lots of help on hand from experts!
I finally got it on the road by Winter 2000 and used it daily in my commute to my college placement in Waterford. It was only barely on the road, no carpets or door cards but externally it was sorted. Over time then as I now had an income, I bought the interior bits, added to it and improved. I fitted disk brakes with Talbot Horizon calipers on the front, an uprated anti roll bar. Then went a bit nuts and boy-racery and fitted 17″ TSW Venoms. Thinking back, it was a bit of a cringey choice but they were awful to drive on so I swapped back to some 15″ alloys again soon after. Eventually I settled upon a subtle modern wheel: 16″ Golf steel wheels. I love how they look.
The initial resto was fantastic, I finally had my first car on the road, I went everywhere in the car. To shows with the SouthernVolksFolks all around the country, on a camping holiday up the West Coast of Ireland with my future wife. We used the beetle to move house a few times too! Sadly, by 2007 after all that time in use and ungaraged, the poor old girl was looking a bit down-at-heel and was in need of a spruce up. I repaired the couple of (thankfully minor) rusty bits that had appeared and repainted it close to its original "Havana Brown" shade. That was in time for my wedding in 2007. Eamon McEvoy and my mate Ian gave a hand in the rebuild after the paint job to get it to the wedding. Since then it's been garaged and is keeping well but I'm planning a 100% stock resto, back to 1973 spec in the future. This one's a keeper and I've had amazing fun with it. It's a family heirloom and will be passed onto my kids in years to come, if they have an interest that is!!
NB:
If anyone has a Havana Brown beetle still with its original "Corbel" paint sticker in place, I'd love to find out the original paint code. Sadly mine was missing before I got to the car 🙁
Submitted by: Trevor Brady