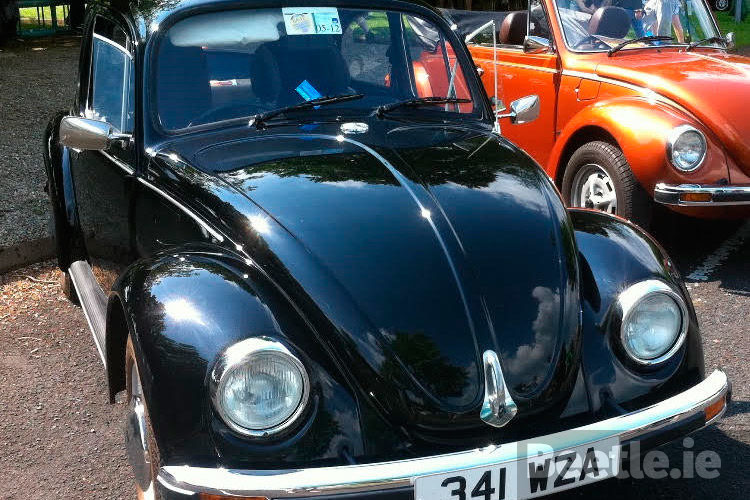 My first encounter with the VW Beetle dates back to 1990, when as a 16 year old school boy, I went on the lookout for our first Beetle with my then 21 year old brother Paul. He had finished college and had started working, so he had decided to buy his first car. For some reason, he had his heart set on a Beetle.
Beetles were a lot more plentiful back then, with many still being used as daily drivers, yet we struggled to find a good one. Paul had all but given up on our quest, until I spotted one for sale in our local weekly paper one Thursday. When I told him about the ad he wouldn't even bother going for a look, but undeterred I persuaded my father to bring me up to Bushypark in Galway, only a mere 3 miles from our home.
We drove up a narrow road off the n59 Galway to Clifden road to a small bungalow at the top of hill and there, reversed into a 3 sided shed sat 341 WZA in its original Miami Blue paint.
Getting out of the car we were met by a lovely man called Frank Hernon, a farmer and breeder of horses. He had owned the car, a 1977 standard model, since 1978. He had used it as his daily driver and pardon the pun, his workhorse for 12 years.
As one might expect after 12 years working on a farm it was well used but remarkably solid. It had being touched up many a time with the traditional brush and paint can, so much so that I think because there was so many layers of hand paint painted on it, it stopped the rust getting hold. That coupled with the fact it was parked in an open three sided shed, was enough to persuade me we needed to buy it.
However it being 1990, there was no mobile phones to hand to ring Paul so we drove home to get him and returned almost immediately. Within a few minutes the deal was done and 341 WZA now had its third registered owner, my mother , because even back then it was impossible for a young 21 year old to get insurance by himself, so he now became a named driver on my mother's policy.
Interestingly, the first owner registered on the brown tax book is none other than motor distributors Ireland Limited. The reason being, which I later discovered was that it was in fact an ex rental car. Every year motor distributors would register a certain amount of cars for car hire purposes and at the end of the year, each local dealer, Maddens of Galway in this instance, would get an allocation to sell off. Surprisingly two years ago I met the owner of 340 WZA which had just been restored and his friend is currently restoring 339 WZA. Unfortunately about 4 years ago I spotted 342 WZA for sale on donedeal but stupidly didn't seize the opportunity to buy it. It's true what they say, you'll never regret buying something you want, but always regret what you didn't buy.
Over the next 26 years the car has remained a truly reliable car as only a Volkswagen can be. We have repainted it twice in a new black colour. We replaced the driver's door and repaired the bottom of the passenger side a pillar and inner wheel arch. Mechanically all we have done is keep the engine regularly serviced and kept the brakes regularly maintained. The odometer stopped working 23 years ago at around 93000 miles so who knows how many miles the car has done, but certainly well over the 100000 miles and more. It has brought us to weddings and funerals and everything in between without ever letting us down.
It lives a quieter life now remaining garaged all year round and used occasionally for a few local rallies and shows. I recently went to start it after not having done so in about 6 months and as usual it fired up on the second turn of the key.
If only everything in life was as reliable as a Volkswagen!!
Submitted by: Peter Murphy