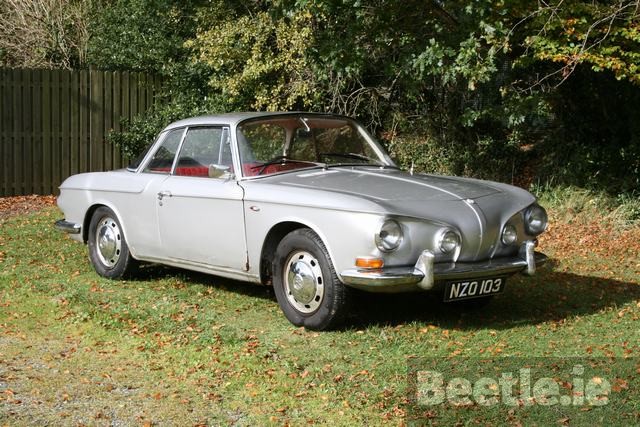 This 1968 Type 34 Karmann Ghia or Razor Edge Ghia as they are often known is a very rare beast indeed. It's a late 1968 model that was ordered in white with a black roof, a 1600cc engine with automatic gearbox and to top it off (literally), an electric steel sliding sunroof, one of only three (maybe four) T34 Ghias sold new in Ireland.
The car was purchased new in Dublin in late 1968, making it a 1969 model Ghia. It was registered on 12th December to Peter Odlum, Managing Director of Odlums Mills. He used the car as his company car until 1974 when he retired taking the car with him. He owned the car for a further 9 years until his death in 1983. The car remained at his address in Blackrock for a further 3 years at which time the Fenning family purchased it, neighbours of the Odlums in Blackrock.
The Fennings owned the car for 22 years from 1986 to 2008. They emigrated in 1990 and lived in Africa and Europe eventually returning to Ireland in 2002. They brought the Ghia with them on their travels.
The car was first shipped to South Africa and used daily for about four years. The family then moved to Egypt, transporting the Ghia overland. As a RHD vehicle it was refused a licence in Eygpt so was parked up for two years.
Next stop Cyprus, where it was back in action. It was used for a couple of years in Cyprus until the family relocated again, this time to Surrey in the UK before eventually returning to Ireland in 2002.
The colour change and some body work happened around 2002. The car was put into storage in 2005 and eventually sold by the Fennings in 2008 to Toirleal O'Dubhlainn who used it as his daily driver until a number of years ago. The mileage stands at a minuscule 70k and will remain low as current owner Michael Higgins ensures this Ghia is only taken out of his garage on fine summer days, and we don't get too many of those!
Submitted by: Michael Higgins