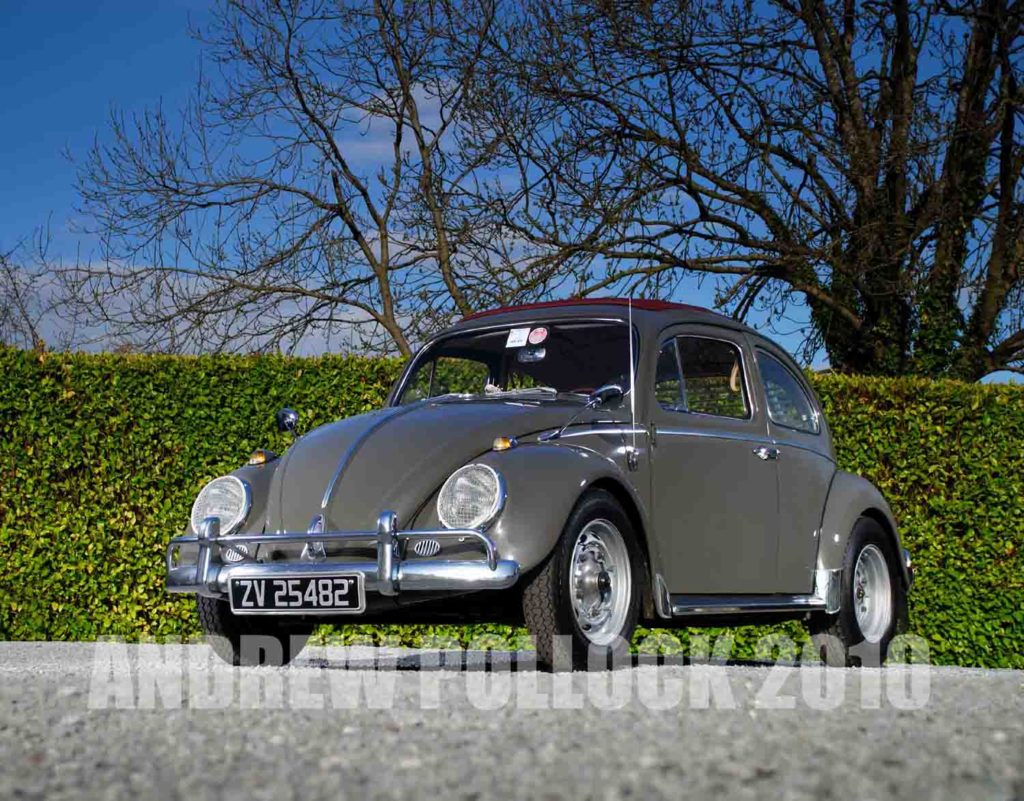 WARNING.— The person in whose name this vehicle is displayed may or may not be the current owner of the vehicle. Readers are warned, therefore, that this entry is not proof of ownership.
Details
Registration Mark

ZV 25482
(a) Type:

Type 1
(b) Year:

1963
(c) Colour:

Anthracite
(d) Paint code:

L469
(e) Engine CCs:

?
History
(a) Country of origin:

United States
(b) County first reg'd:

Cork
(c) Current or last known location:

Cork
Model information
Beetle Deluxe and Ragtop
Info
Feast your eyes on this multiple magazine featured Beetle. It was imported and restored by Jean Michel Shiettecatte from Cork. Jean Michel is nothing if not a perfectionist, although that term doesn't really come close to describing how much of a perfectionist he actually is. Not only is his attention to detail off the charts but he has an eye for rare VW accessories so and NOS parts and this Beetle became the perfect showcase for that.
Such was the calibre of this restoration that Jean Michel's Beetle was featured in Retro Classics in Ireland and Volksworld Magazine which is sold globally.
Luke Theocharie from Terrys Beetle services helped import this Ragtop from the USA. It's lowered with CB Dropped Spindles to 2.5 inches and then raised by an adjustable beam, as 2.5 inches was too severe. This way it gave Jean Michel the best of both worlds and helped keep the handling of the car perfect.
There are Period Beam Brace supports bolted on for the front beam to keep the front beam nice and firm period superior rear control arms and an EMPI Camber Compensator to help the rear behave itself.
Porsche 356 early A brakes, the ones with the flatter face and only one bleed nipple. These are the only ones that fit with very minor modification to a CB dropped spindle. Rear brakes are Porsche 356A.
The wheels are (front) Porsche Lemeritz 4.5 and out the back they're Lemeritz widened in the 80's to 6 inches. Tyres are Vredestein Sprint Classics. 155SR15 front and 205/70VR15 back
The exhaust tunes come from a modified 4 in to 1 to fit a Porsche 356 engine with heater boxes and a Bugpack Tuck away. The gearbox is another tasty item. It's a Rancho 6 volt super diff, Pro-street, 4.125 R/P, .89 4th gear, heavy duty side plates, welded gears 3.78 first gear. All controlled by an EMPI Eliminator shifter.
The paint is original on the inside, with only one re-spray on the outside.
Some of the accessories include Albert Swan necks with Hooded Mirrors, 6 V VDO Amp meter, Oil Temp and Oil Pressure mounted under the glove box. 6 V VDO Rev Counter with its corresponding replacement speaker panel, Akkord Picnic Radio, EMPI GT Sport 380 mm, front single crossover TEXACO belts and many many more.
The front seats are the original but Jean Michel had Chris at trimming tonic restitch the stitching on the front seats and then Jean Michel refitted the seat covers using the original horsehair and padding. "I wanted to keep the original distinctive smell!"
The engine came from a 1960 Porsche 356 Super 90 with twin 40 Webbers
The background to this gorgeous ragtop is as follows:
The car was purchased new by Mrs Brooking in1963, from Wes Lasher, a VW dealer in Sacramento, California. She and her husband drove it to their wedding from Grass Valley, CA, where they lived. Mrs Brooking bought a new car some time in the mid 1970's and sold Mouse (as it is known) to her nephew Allen.  Allen played with it, putting on 356 A brakes from a mutual friend's Speedster who was converting to disk brakes.
Another Porsche Club couple, Larry and Julie Jones, had just bought a new Porsche 911 on a tight budget.  Julie was commuting 5 miles every day in the 911! Allen couldn't stand that kind of wear on their new 911, so he lent Mouse to Julie to commute in!
Julie drove Mouse daily for two to three years but something came astray in the shift linkage so Mouse was parked behind Allen's garage under a canvas cover.
Sometime in the late 1980's  Allen decided to get out of the car business and held a garage sale, selling his Concours '69 912 Targa and a 356A coupe as well as Mouse and a hot 356 autocross motor. Mark Smedley bought the Beetle and the 356 engine. He paid $1,000 for both!!!  It is at this point where Mouse got her name due to the Anthracite colour!
Mark Smedley trailored her home, drained the gas tank, rebuilt the carburetor, drained the oil and adjusted the valves. With a new battery she started right up!
At that point she was 100% original save the 356 brakes and 356 rims that Allen had put on.. The paint, interior, tool kit and every nut and bolt was original. But with the 356 brakes and 356 rims, Mouse was on the way to be a racing Bug.
Mark drove her to and from his job at a hospital for four or five years. She always ran like a Swiss watch! Mark was also working on a full Concours  custom restoration on another 1963 sunroof Beetle into which he installed a hot 356 motor he had bought at the time of buying Mouse. He took the Porsche brakes and rims off Mouse who in return received rebuilt proper VW brakes and wheels. Mouse was back to where she started – all stock!
Around that time in 1995, Mark decided to get out of VWs and put Mouse up for adoption which is where Jack Griffin enters the story.
Jack Griffin, a renowned Porsche enthusiast and founder of Dream Garage in Dallas bought Mouse without even seeing her. He had heard a lot about her and knew she was solid. When Jack bought Mouse she was pretty original with fairly tired exterior paint and faded interior but she was very solid and not rusty like many bugs of that vintage. Jack had and still has a large collection of vintage Porsches and wanted to include the VW link to his group.  After the original motor 'grenaded' on him he was undecided whether to rebuild it or sell Mouse.  He had several spare 356 motors so had Mayo Performance, the premier Porsche shop in the area, install the motor. It was a 356  engine out of a Speedster.  It was not as easy a swap as some may think. Quite a few things had to be fabricated to make it work. Ed Mayo, the owner of Mayo Performance is a veteran Porsche mechanic who is the National Technical Editor for The Porsche Club of America. As such, he is very knowledgeable about Porsches and especially vintage ones.  He had installed 356 motors in VWs but not since the 1960's.  So Mouse now finally had the heart of a 356! The problem Jack had after the installation was that the gearbox, brakes, and suspension that were all stock VW items were not suited to the increased power Mouse had and he was going to be faced with a decision as to how to deal with these issues.  Along came word of an already restored '63 sunroof in show condition that was available in California so Jack bought that one in 1996.  Then came a very nice '56 Oval Window Beetle that he just had to have.  So you see, Mouse became a very low priority and sat around in Jack's garage amongst all the Porsches.
Stan Hanks from the Seattle/Portland area bought one of Jack's 356 Speedsters and was intrigued with Mouse.  Jack sold a Speedster Coupe, a 356 S-90 (the very first one produced) and Mouse to Stan around 1997-98.  Stan had Mouse restored with a fresh coat of paint on the outside (the inside was perfect), reupholstered all the seats with some TMI covers and generally gave Mouse a breath of fresh air. At this point everything on Mouse was standard except the 356 Motor.
In 2001 Stan sold Mouse to David Adams who lived close to him in Oregon. David, another avid car collector had Mouse dry stored with many of his other cars until he decided that it was time to part ways.  In November 2007, a deal was struck with its current owner Jean-Michel Schiettecatte. As soon as Jean-Michel saw it advertised he knew it was something special. A deal was done. Mouse arrived at her new home in Cork in early 2008.
Jean-Michel, whilst browsing through all the paper work that came with Mouse, decided to find out as much of her history as possible and managed to track down both Jack and Mark who were more than happy to relay the whole history of Mouse. At this point it was clear to Jean Michel that there was only one way to go and that was to complete the work on Mouse that had started in the 1980's. Mouse had to become the race car she had always been so close to becoming on so many occasions! Jean Michel addressed all the fears Jack had had. A full new set of early 356 A drums, a new gearbox spec'd out to take the torque from the 356 engine, Koni shocks all round, Koni steering damper, uprated front anti roll bar, rear EMPI camber compensator, Superior rear control arms, front beam brace, Genuine Lemmrits wheels 4.5'' at the front with 155's and 6'' 205's at the back. The whole suspension and steering was rebuilt using NOS parts.
The original front beam was taken out and replaced with a NOS one that had adjusters welded in, so that the front could be brought back up and with the dropped CB spindles, the ride could be dialled in to perfection without adverse affect on handling and ride quality. This also helped push the front wheels out to be in line with the rears.
Once the mechanical side sorted, Jean Michel tackled the interior and exterior. Jean Michel wasn't happy with the TMI interior so decided to find a genuine interior. The rag-top was also totally rebuilt and upholstered by Jean Michel. He then added a  set of 3 NOS VDO 6 Volt gauges and a NOS 6 Volt VDO Rev counter was also mounted in the speaker Grill. The speaker grill was also replaced with the very rare specific VDO version to fit the Rev Counter. A Empi Eliminator shifter and Empi GT steering wheel were also fitted.
Other niceties included a Parcel shelf made by VW, a picnic radio made by Akkord was hooked up to a Huco speaker, cocomats, Kamei running board kick panels, Rear Kamei shelf, Gradulux rear window Blind, Albert swan Neck mirrors, Albert Stone Guards, front headlight grills…..
Mouse finally became the Car she was always destined to be!
Thanks to Andrew Pollock for the use of his excellent photographs.
Additional Photos
---