Cathal O'Toole
Cathal's VW obsession began way back before his family moved from Galway to Limerick. Their neighbour had a 1962 Red Beetle that took them to school, shopping and fun days out.
When the family moved to Limerick the passion for Beetles grew even more and by the time Cathal was 14 years old Cathal's father Charlie towed home a soon to be scrapped Beetle that Christmas Eve. That was the first of many Beetles to pass through Cathal's hands and there's a story behind every one of them.
Cathal began working as a freelance journalist on VW publications such as Total VW and FL4T Magazines in the 1990's before moving to Volksworld Magazine and Volksworld Camper & Bus Magazine. There were forays into 'normal' car publications but Cathal's love was and is aircooled VWs.
It was through Cathal's freelance journalism that the idea for Beetle.ie evolved. Cathal: "I'd speak with people from all over the world researching features and everyone has a story, everyone has a past with an aircooled VW. In Ireland we lead the way in Beetle production outside of Germany and the Irish people embraced the Beetle and its many variants to ensure a nearly thirty year production run so it's fair to say we have our fair share of stories."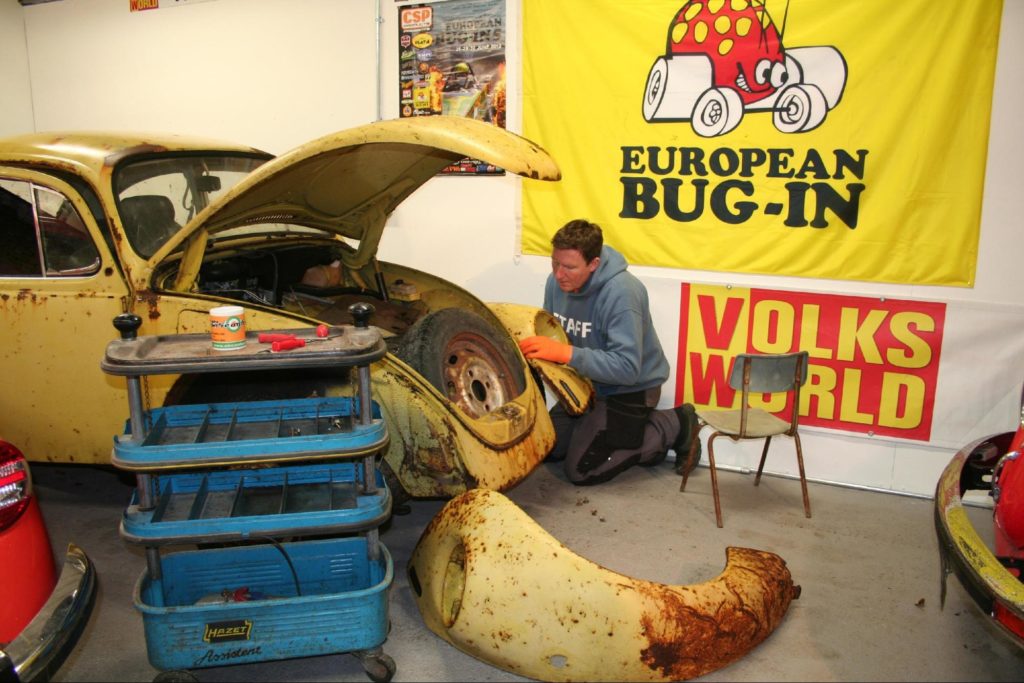 Trevor Brady
Trevor's first memories of VWs were from rural Kilkenny, back in the early 1980s, sitting in the back of his aunt Margaret's 1973 Havana Brown 1200 Beetle on weekly trips to visit cousins in Carlow. In the days before seatbelts the cosy warm area behind the back seat was always highly sought after and the cause of many rows between him and his siblings as they jostled for position! Aunt Margaret emigrated to Australia and Trevor's granddad, Jack Brady, took ownership of the car and drove it daily up until the dreaded rust took over. Jack parked it in his shed, intending to fix it up one day but by 1998 Jack realised it would never happen so he proudly handed the keys to one very happy Trevor. All these years later and Trevor still has that Beetle, his first car, a 1972 1200 Havana Brown Beetle. It's a family heirloom at this stage!
So now, all these years later, Trevor has been through a string of old VWs: Type1, Type2, Type3 and later onto more "modern" machinery in the form of watercooled 1970's and 1980's Audis and VWs but the flame always burns strong in Trevor's heart for the Beetle and has always been the one he returns to after brief flings with modern motors.
Lately the forgotten history of VW has peaked his interest and he has been working hard to research and document the more obscure elements of the VW story in Ireland. In fact, it's Trevor's dogged determination to find as much of this lost history that has lead to numerous discoveries in production figures, paperwork and even cars themselves. Trevor has singlehandedly headed up the Special Edition and Barndoor listings.
Trevor is a regular on the Irish VW scene and has been for many years. His first hand knowledge of mechanics and VW restoration has earned him great respect amongst his peers. His contribution to Beetle.ie is invaluable.