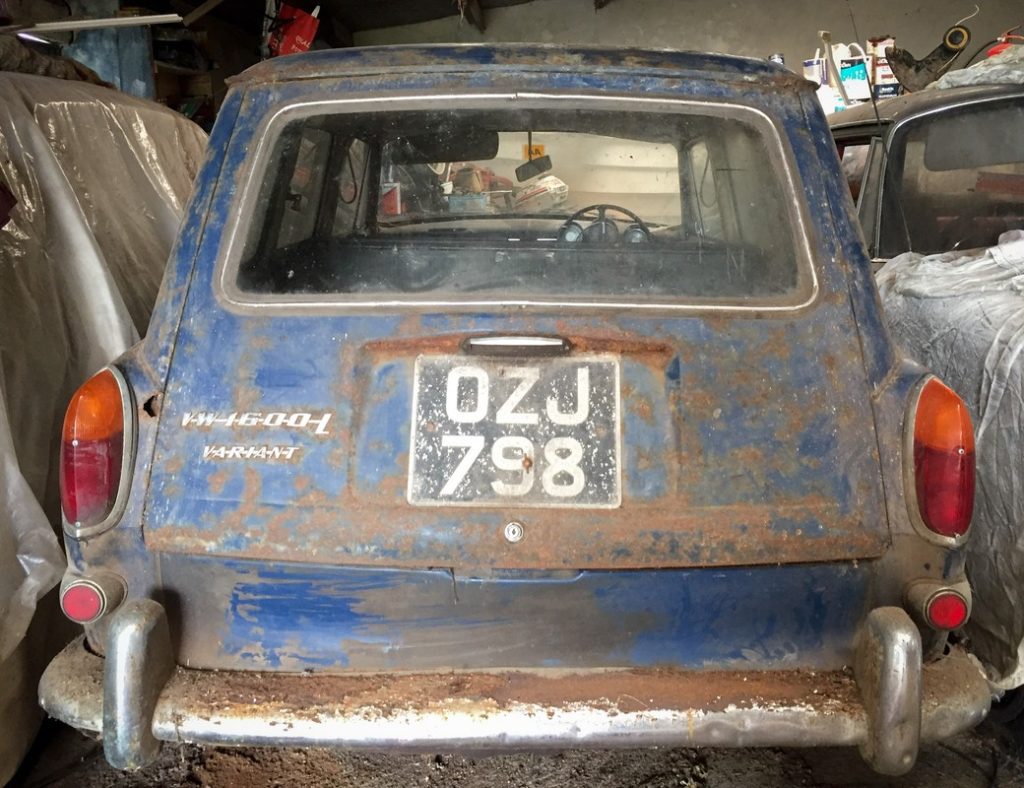 WARNING.— The person in whose name this vehicle is displayed may or may not be the current owner of the vehicle. Readers are warned, therefore, that this entry is not proof of ownership.
Details
Registration Mark

OZJ 798
(a) Type:

Type 3
(b) Year:

1967
(c) Colour:

VW Blue
(d) Paint code:

L633
(e) Engine CCs:

1600
History
(a) Country of origin:

Ireland
(b) County first reg'd:

Dublin
(c) Current or last known location:

Westmeath
Model information
1600L Variant and Type 3 Variant
Info
JK got in touch with us late in 2019 to tell us about this Type 3 Variant that has sat untouched for decades in his dad's garage. He wanted us to wait until the Variant was out before showing you but it was worth the wait. It wasn't alone as it had some rather upmarket company including a Mercedes and a brand new, unregistered Peugeot 504! That's right, JK's dad bought the 504 and simply parked it up. The Variant was assembled in Dublin in February 1967 and was first registered in Dublin in March 1967. It's a Type 3 1600L Variant in VW Blue (L633) which is one of the best colours on a Volkswagen, especially when the sun hits the chrome, it really comes alive!
The Variant was used by JK's parents on their honeymoon in the UK in 1970 but unfortunately the Variant broke down so they had to be recovered from the UK back to Ireland. Once home the Variant was put away with the intention of repairing the issue but as life got in the way and other cars came along the Variant sat in the same spot for fifty years.
We'll let JK take it from here:
"So, my Dad (God rest his motoring and hoarding soul) bought a new Peugeot 504 in 1976, drove it home, decided he wasn't that keen on it, wrapped it in a few blankets and some plastic sheets, then kept it hidden away in the garage for the rest of his (and its) life.
The Peugeot is 44 years old, yet to all intents and purposes, it's actually brand new – unregistered as far as I can see and with just a couple of hundred miles on the clock which was when he drove it home. 
The car has no registration plates and there is no sign of a log book or any form of documentation, not even a sales invoice/receipt or anything like that. You see, while he was an avid hoarder of things, he wasn't so keen a keeper of paperwork :-). 
We managed to move our VW today. It took hours as we only had an inch on each side (between the Merc and the 504) and no way of getting to the tyres or the steering wheel so it was a slow process using some jacks and pulling it a few inches at a time. It's in better nick than I thought so I'm quite happy with that. Seemed very solid when pulling it too.
My mum was delighted as she found some Horse Chestnuts in the glove compartment. She remembered picking them off a tree when herself and Dad broke down on their honeymoon and were waiting for the AA man to arrive – somewhere near Warrington I believe.
There's so much more to old cars than engines and chassis and body panels isn't there? There are memories and secrets and character. Is that why we keep them?"
I think JK has just summed up perfectly why we all love old Volkswagens!
So what of the Type 3? Well, we are delighted to tell you that this rare Irish assembled Variant is now in the hands of a Type 3 enthusiast who is about to start the restoration. We wish him all the best and will look forward to watching the progress.
UPDATE 12-03-2021 from Tim: After being in storage for 53 years we got this Variant up and running in just 2 days once we got it back from its long slumber in Cork. Also with me in Westmeath is RZT 768, well, part of it does. That Variant was scrapped many years ago due to major rust everywhere. The only surviving part was the floor chassis and logbook. The floor was used on a Fastback with an existing floor beyond repair. And as the law requires the stamped chassis, logbook and number plate go on the repaired vehicle. So RZT 768 is now a restored Fastback, white in colour. Its been taxed as such for 2 years it now resides in Westmeath.
UPDATE 18-03-2021: Tim has been in touch to show us the video of his Variant alive after an unbelievably long slumber. Tim also notes the process involved in getting this VW up and running again, and so quickly. As we mentioned above, Tim is a hardcore Type 3 enthusiast and we know that OZJ 798 is now on the orad, so to speak, to recovery, whether that be a full restoration or a preservation. No matter what the route that's taken, we cannot wait to see this extremely rare Irish assembled VW back on the road. Congrats Tim!
Tim: Here is a link to the Variant driving after a couple of days,
https://www.youtube.com/watch?v=FvE3bv0awhY
Myself and my brother John managed to quickly assess that there was a problem related to the incorrect distributor being on the car. Probably done by the mechanic in Cork that attempted to resurrect the car 50 years ago. Quick mod on the distributor that took minutes, finally got the engine started and driving. New starter motor was also fitted afterwards, as the constant cranking on the 50 year old one overheated the adhesive holding the starter segments and they loosened and fell out. New starter, fixed dissy, job done.
Additional Photos
---