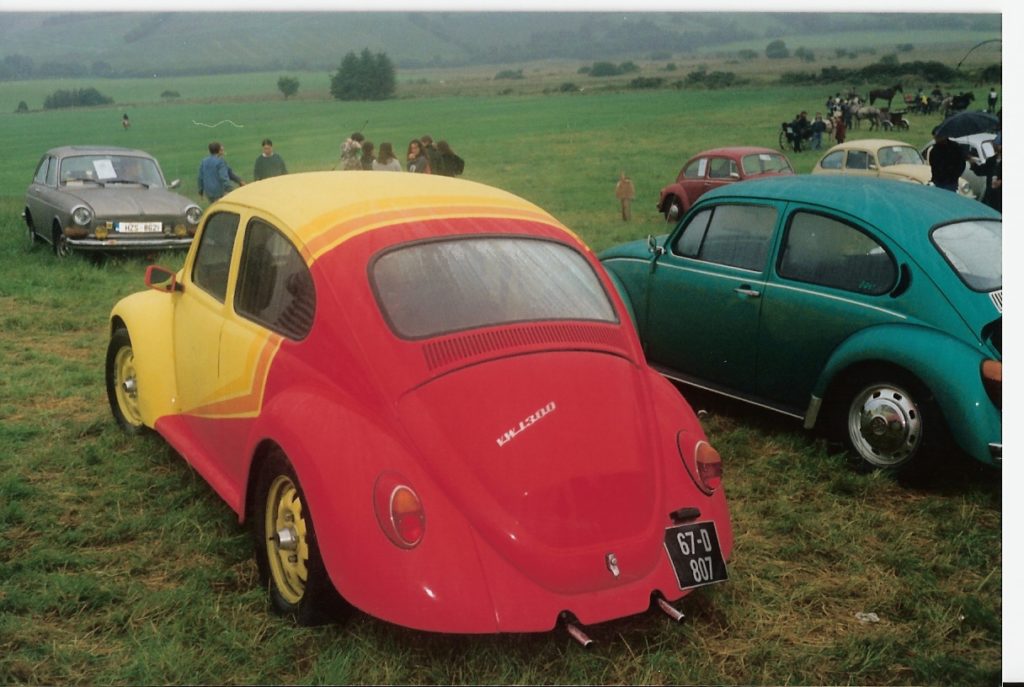 WARNING.— The person in whose name this vehicle is displayed may or may not be the current owner of the vehicle. Readers are warned, therefore, that this entry is not proof of ownership.
Details
Registration Mark

67 D 807
(a) Type:

Type 1
(b) Year:

1967
(c) Colour:

Yellow, Orange & Red
(d) Paint code:

?
(e) Engine CCs:

1300
History
(a) Country of origin:

United Kingdom
(b) County first reg'd:

Dublin
(c) Current or last known location:

Tipperary
Model information
1300 Beetle Deluxe
Info
If you wanted to describe the 1980's Euro Look to someone then this '67 Beetle is all you need!
Photographed at one of the brilliantly successful Kilcommon Shows, even in the rain this Cal Looker shines! The engine no doubt is the stock 1300cc unit as modifying engines was out of most people's reach in terms of finance but also parts. You simply couldn't buy them here. The paint scheme looks to be inspired by a Bay Window that was featured in one of Colin Burnham's VW books which were published in the mid-80's. Overall the Beetle isn't modified too much but it's the paint that gives the impression of a more custom Beetle than it actually was. Fibreglass colour coded running boards and Rossi headlights were a big style back then. The colour coded Marathon wheels were a smart and budget conscious way of getting rid of standard steelies and hubcaps.
This 1967 Beetle which was registered in the UK in June 1967 and subsequently re-registered in Dublin after being imported in 1988 was on the road up until at least the mid 1990's but we lost track of it after that. Have you seen it? Do you know its fate?
9-10-19 UPDATE: We were recently contacted by the man responsible for importing and building this 1967 custom Beetle back in the day. It's always a fantastic feeling to be able to add to a car's history or to bring back memories to a previous owner. Thanks for getting in touch with us Maurice and if you have any more information please let us know.
"Hi,
I just found your site when I decided to randomly google the reg number (67 D 807) from an old Beetle of mine, and was most surprised to actually find a picture of it, as I've long since lost those that I once had.
It was very interesting to read your description of it, as it was I that built the car. It was a bog standard 1300 Deluxe on UK plates when I got it in approx. 1988. It's a pity it has disappeared from the scene as I could no doubt pass on many details of it to its current owner. I still have the original UK reg heavy pressed aluminium number plates screwed to the rafters of my shed!
Unfortunately I no longer have a Beetle but between the wife and I we do have a Beetle based trike, a MK1 Golf and 2 T25s, (in various states of use and disuse!) so we've not completely lost the faith.
Anyway, thanks for preserving the photos, it was great to see them."
11-10-19 UPDATE: I asked Maurice for information about his Beetle and this is what he sent through. I think you'll agree that Maurice has definitely filled in some blanks about the Beetle's past life. Thanks Maurice.
"Where to start? I got the Beetle in approx. 1989 from a friend, I think for £70. It was surprisingly solid, so much so that I promptly scrapped the '73 Beetle I was in the process of stripping and discovering was far more rotten than I realised.
I did all the work bar the respraying myself in my parents single car garage and on the driveway, mainly over a period of about 2 years. The only rotten area was the spare wheel well which I fibreglassed as my welding skills on sheet-metal were poor at the time. Otherwise there was virtually no filler on the body although I had to replace 2 wings.
Exterior modifications included the one-piece front door windows, dechromed all round inc new plain window rubbers etc.  I fitted T-bars in place of the original bumpers and shaved the passenger door handle off. I got a few sets of celebration rims ex Formula Vee cars and chose the best set for fitting.
Mechanically I put sway-a-way adjusters in the front beam along with caster shims. The rear suspension was stock although I did fit uprated gabriel gas dampers all round. Gearbox was left alone (I think I painted it the same yellow as the car but can't really remember) and I fitted the twin port AB series engine from my '73. The engine had excellent compression and virtually zero endfloat so I serviced it and fitted new rocker and pushrod seals etc and a manual choke conversion but otherwise left it alone apart from dressing it a bit with a smaller alloy crank pulley, a chromed alternator pulley and dipstick, painted fan shroud and a few other minor dress up engine bits. I also uprated the electrics to 12v using the few required parts again from the '73 bug. As it was the last of the 6v models it actually had a starter to mesh with the ring-gear per the following years 12v spec so I could retain the original 6v starter with its heaver windings whilst fitting the later 12v engine.
Moving to the interior, I cut out the original glovebox shaped section on the driver's side that housed the speedo and fuel gauge and replaced it with a piece of Stainless steel I cut to shape. Into this I fitted a VDO speedo and matching fuel gauge and I think voltmeter too but again my memory is hazy. The steering wheel was a red leather Mountney 4 spoke item I had bought a few years before from Ripspeed, knowing one day I'd have a Beetle to use it in. Carpets were renewed with standard black ones whilst the door & rear quarter cards I remade from fresh hardboard covered in foam and then a red with a fine black pinstripe velour, then into this I (tediously) drilled the hardboard to enable inlaid stitchwork in a pattern similar to the colour striping on the exterior, took me many evenings half-watching the TV whilst doing this. The same material was used for the head-cloth, stretched and glued directly to the roof. I had a trimmer to this part for me. I fitted a T-Bar alloy short throw gear lever also. 
With all this work done above I had just got it back from the painter (A great guy called Martin something, from Cabra) and had fitted a pair of Volvo 340 front seats and was planning the final few touches to it.
At this point I'd never actually driven it on the road, barring short once around the block tests to check work as I progressed it. My daily driver was a Mk2 Escort and I had a Fiat X1/9 as my fun and weekend car.
Anyway, the gutter at the side of the house, filled with years' worth of small stone chippings from the flat roof, fell off and landed on the Beetle, damaging a front wing and peppering both Beetle and X1/9 with the stones and causing multiple paint chips on both. Totally disgusted I never touched either car for about a year. I then sold the X1/9 but the Beetle lay there for about 5 years. I hadn't the heart or the money to strip it and repaint it again (A touch up would not have sufficed for me, it had to be pristine).
Then a girlfriends cousin expressed interest in the car and I did a deal to repaint and finish it and sell it to him. Different seats were sourced, I had it resprayed (by the best sprayer I know, still to this day a great chap called Paddy Duffy), in the original paint scheme. I can't remember exactly but think it's a VW yellow at the front with Porsche India red at the back, using  Fiat and Alfa oranges in between. At this stage the T-Bars had not weathered well so they were removed and the holes filled, the Rossi Headlights were similarly pitted so I had them painted, oh nearly forgot, I removed the indicators from the top of the wings and yellowed the additional sidelight lenses in the Rossi's instead. I had planned on fitting repeaters (think they were Fiat 127 ones?) behind the wings but the new owner didn't want them.
At this stage I also fitted a 3 Piece fire wall to the engine bay. I had originally tried to do this when first built the car but having not found them readily available I approached a sheet-metal company who gave me a very reasonable price against my supplied drawings. Unfortunately when I went to collect I discovered that I had dimensioned in CM and they read them as MM –Doh! I've mainly worked in Aviation so feet and inches were more my style at the time.
My final job was to get a copper (or was it brass?) plate made in the airports workshop machine engraved with the date and stating my name as the builder, which I both riveted and epoxied to the engine bay firewall.
I waved goodbye to it but did have to call back to the new owner about a month later to fit the passenger side mirror (couldn't find it when it was being collected), and because I remembered I had neglected to safety wire the gear-lever bolt under the rear seat.
I was disgusted, he had torn the rear passenger wing by reversing over a brick, all the way mind you, the tear was at the front edge of the wing. The dash inside was destroyed with paint chips, he eventually admitted to allowing his young nephews and nieces to play in it!
I also noted the nice SS flared exhaust tips had already been replaced with the standard pea-shooters and a grotty original oil-bath filter and similarly filthy carb sat where there had been a nice new chromed pancake foam air filter along with the cleaned carb with manual choke conversion. These had been fitted by a Beetle specialist who had claimed these modifications were detrimental to the engine in some manner and should not have been fitted.
As by that time I had parted ways with his cousin, it was the last time I saw the Beetle until finding it on your site (although I'm sure I have a VHS somewhere in the attic of the second respray being undertaken).
So unfortunately I never had the enjoyment of using or showing the car. I've no idea who owned it at the time you photographed it. I really hope it's still on the road as really was a very solid car.
It was the last Beetle I had, although I did look at a couple of convertibles a few years back before eventually buying a Mk1 Golf Cabrio for my wife and my 11yr old son is Herbie mad (I wonder why)  so I have entertained the notion of getting another as a father-son project…….
Anyway, thanks for your interest, you've made me reminisce and I've enjoyed it. Hope I haven't bored you with excessive peripheral details.
All the best"
Additional Photos
---